We Manage for You.
For many elders and their families/guardians, partnering with ECS for continuing Care Management is an important option – especially when geography or health concerns limit the ability of family/guardians to monitor and manage care over time.
Advocacy and Continuing Care Management is offered in a range of services and levels. ECS staff work with older adults and their families/guardians to create the most effective plan.
Services may include:
On-going scheduled visits to elders in nursing homes to monitor and manage care
Regular visits to elders in their homes to monitor health status, mental/emotional status and continued appropriateness of living situation
Modifications to the Care Plan and implementation of changes as dictated by changes in health or functional status
On-going collaboration with Physicians and other providers to ensure a coordinated approach to care
Regular participation in healthcare conferences with physicians, nurses, caregivers and facility staff to help ensure the needs of the older adult are met
Regular contact with families/guardians via email or phone, especially those who are geographically distant or those not involved in direct care
On-call availability for managing emergency situations
For more information about how ECS can help with ongoing Care Management for an older adult, contact us at 630-416-2140. One of our nurses can help you find the level of continuing Care Management which will best support your older adult and family.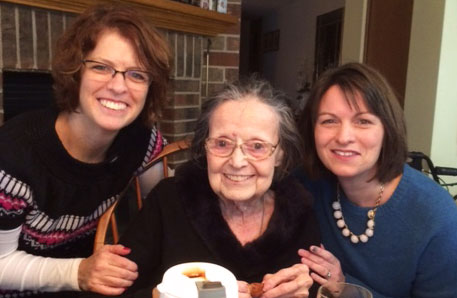 Care Managers Rosemary (left) and Jean (right) enjoy
lunch with Francine.