Working with a Geriatric Care Manager means establishing a relationship built on trust and shared values. That's why we select staff who meet the two most important criteria for professional relationship – expertise and integrity.
All of the professional ElderCare Solutions (ECS) staff:
are Registered Nurses who hold, at a minimum, a Bachelor's degree
have the expertise to recognize and address the physical and cognitive changes that can occur as individuals age; and
have years of experience working with the elderly and their families in a variety of settings, including nursing homes, assisted living facilities, medical and psychiatric hospitals and in the community.
know how to advocate on behalf of disabled or older adults to ensure their needs, desires and values are recognized, respected and protected.
But more important for ECS, our staff are all dedicated, compassionate professionals who embrace and practice our core beliefs:
that we are all interconnected;
that learning and growth is possible throughout life;
in the power of hope and the sense of possibility even in the darkest times;
in coupling honesty with a compassionate heart.
We encourage you to meet our staff, the exceptional professionals who bring their knowledge and compassion to ECS and those we serve.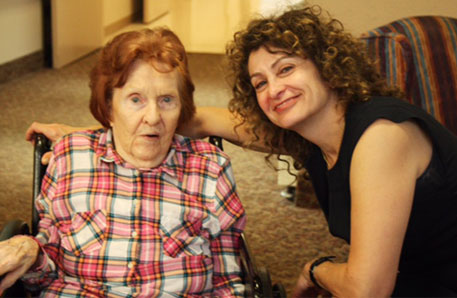 Our Care Manager Amy Zucker with our client Lois.